Inspired by the Japanese art of paper folding, 'Origami', which launches this year's Dance Umbrella festival, is performed at Battersea Power Station
Zo AndersonThursday 19 October 2017 12:31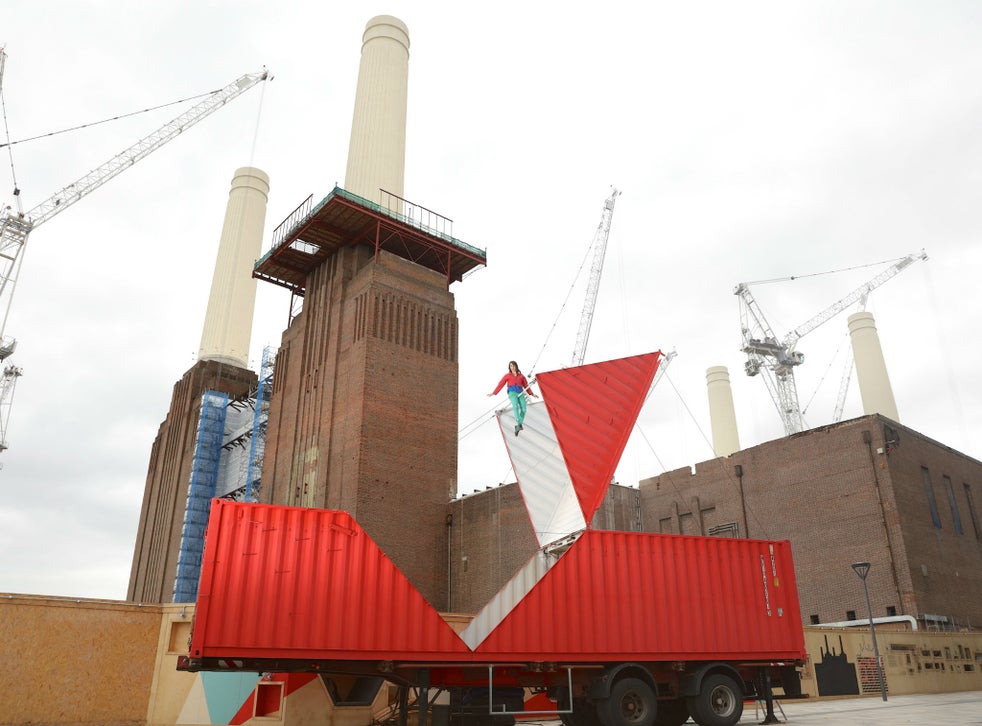 A woman hangs upside down from a slice carved out of a giant shipping container. Dangling by her toes, Satchie Noro has the ease of someone lounging on a very comfortable sofa. Behind her, the towers of Battersea Power Station loom into the night sky. Origami, which launches this year's Dance Umbrella festival, sets her airy grace against monumental structures.
Under director Emma Gladstone, Dance Umbrella has roamed away from more conventional dance venues, adding collaborations with filmmakers and poets or supporting unexpected approaches to traditional styles. It's a fresh identity for a festival that, having helped to create London's contemporary dance scene, was in danger of being outpaced by it. Origami is characteristic: a large-scale free event at a range of locations across the city, from Greenwich to Croydon.
At Battersea Power Station, it also reflects a changing city. Noro and co-creator Silvain Ohl take an industrial object and bend it into an artwork, performed in a post-industrial landscape of new flats: transformation, repurposing, gentrification.
As a work, Origami is both spectacular and unflashy. Noro doesn't defy gravity, she calmly ignores it. The bright red container unfolds, a triangle lifting away and turning upside down. It's winched into place with conjuring-trick ease, metal tipped and folded as easily as the paper art of the title. She floats around it: walking on the wires that move the metal, hanging from pegs in its sides, scampering over the sloping surfaces.
Her moves are fluid, almost meditative. Stretching into space, Noro will ease a foot gently past her ear or watch as the moving metal changes her position for her. At one point, she dips into the splits, then lets herself slide off the platform. The fall is controlled, the risks downplayed. Instead, the drama comes from the scale of the work, from the contrast between the delicate, human dancer and her huge metal partner. Lights pick her out as she swings herself lightly around the moving steel, curling lines around the container's stark, sharply pointed shapes.